At Glacier Water Systems we provide the full range of Quooker Boiling Taps to all of Northern Ireland. Here you can find out more about what Quooker Taps are, how they benefit you, and our range of Quooker Tap prices which include an on-site survey. No matter which model you choose we guarantee that our Quooker Tap prices will provide a great deal for you and your home.
What are Quooker Taps?
Quooker taps are revolutionary products in the world of kitchen appliances. They are boiling-water taps, designed to instantaneously deliver boiling water straight from the tap, eliminating the need for a kettle or waiting for water to boil on the stove. Quooker taps are celebrated for their efficiency, safety, and convenience. With a Quooker tap installed in your kitchen, making tea, cooking pasta or cleaning becomes significantly more efficient. They are available in a variety of styles and finishes, making them a flexible choice for any kitchen design.
Quooker taps can provide every type of water you would need in your house: Hot, Cold, Boiling, even Filtered chilled and Sparkling with an addon, all in one tap. Each tap has a faultless safety system preventing the tap from dispensing boiling water unless you really want it.
Why Should I get a Quooker Tap?
Quooker taps are a brilliant way to save money on something that you need every day. A Quooker boiling tap provides a small tank of boiling water right under your sink to instantly provide you with 100°C water. This reduces the need to use a kettle which takes minutes and immediately loses the heat meaning you constantly have to boil water again. This can be incredibly wasteful, especially with the current soaring electricity prices.
Let's put it into numbers
An average kettle has a power consumption of 2000 Watts and to boil 1 litre of water it will take around 4-5 minutes. With current electricity prices, this works out to 5p each time you boil water. Now this doesn't seem that expensive, but that's every single time you turn your kettle on. Now say you boil your kettle 5 times a day, in a year that adds up to over £91 a year just from one kettle.
That's only a small part of the savings. If you include the energy needed to boil water in a pot when you're cooking these savings add up quickly. With our Quooker tap prices your tap will pay itself off in no time.
A Quooker tap solves all of this with an insulated tank for the boiling water. By using a tank with high-vacuum insulation as little as 10 watts is required to keep the water at boiling temperature. Not only that but you only need to heat the water that you use further reducing the effective power consumption.
But wait, there's even more
It doesn't end after you've installed your Quooker tap as there are other products which can further improve your experience.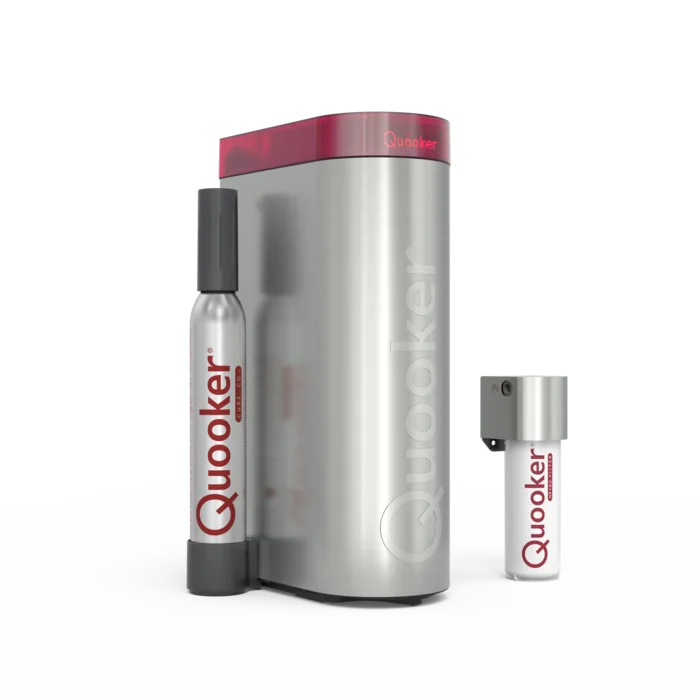 With the Quooker CUBE, your boiling tap can also provide you with filtered chilled and sparkling water on demand from the very same tap! The CUBE will remove your need to purchase several bottles of sparkling water which can save you from mountains of plastic bottles that need to be thrown away.
The CUBE uses small, inexpensive CO2 cartridges which provide 60 litres of sparkling water each. Compared to multipacks of sparkling water the CUBE system can save up to 50p per litre of sparkling water, not to mention the huge reduction of plastic waste. Quooker also takes the extra step of accepting used cartridges from customers and refilling them to provide to other customers.
Not only do you save a huge amount of money, you help save the world. We at Glacier Water Systems are proud to provide you with a Quooker tap and help you make an impact on the world.
What is the price for a Quooker Tap?
Our Quooker Tap prices start at just £950, however, your final price depends on the tank and finish that you choose. As the leading Quooker installers in Northern Ireland, we guarantee that no matter which option you choose you will absolutely be satisfied with it.
There are 3 tank options, a 3-litre, 7-litre, and COMBI tank. The 3 and 7 litre tank each provide their respective volume of instant boiling water and the COMBI tank also provides a tank for hot 40-60°C water. This means you no longer have to wait for the hot water to get through all the pipes in your house before you can start cleaning your dishes.
Each tap comes in either a polished chrome, stainless steel or black finish so these taps will easily fit into any kitchen style.

Below is a list of the Quooker taps we provide along with an example configuration and its price. For a more personalised quote, you can contact us now to receive a bespoke quote for your exact needs.
Quooker Flex
The Flex Tap is the first boiling water tap equipped with a flexible pull-out hose. There is no need to have separate taps as the Quooker Flex can provide hot, cold, and instant 100°C boiling water all in one tap. As a bonus, this skillfully engineered tap will not dispense boiling water when the hose is pulled out meaning there is no chance of injury from boiling water.
The polished chrome version with a 3-litre tank starts at just £1150 and bring you all of the luxury of a flexible pull-out hose and instant boiling water all in one tap. Call us today to receive a bespoke quote and finalise your Quooker upgrade.
Order a Quooker 3in1 Flex Tap Here
Quooker Fusion 3 in 1
The Fusion 3 in 1 is perfect for those who don't need the fancy flexible hose but still want the convenience of access to boiling water with no delay.
This model also brings the option of a round or square shape along with the usual finish and tank options.
This model starts at just £1150 with a polished chrome finish and a 3-litre tank. Call us now to finalise your perfect Quooker tap upgrade.
Order a Quooker 3in1 Fusion Tap Here
Quooker Nordic Single Tap
The Nordic Single Tap is a great option if you have already found the perfect mixer tap for your kitchen but want the instant boiling water upgrade. It sits next to your regular tap and provides you with the same famous instant boiling water as any other model. With either a round or square shape this single tap will match any kitchen aesthetic.
Starting at just £950 with a 3 litre tank the Nordic Single Tap will surely complement your existing tap and revolutionise your cooking experience. Call us today to receive a bespoke quote for your home.
Order a Quooker Nordic Single Tap Here
Quooker Nordic Twintaps
The Nordic Twintaps suit those that wish to keep the hot and cold water separate from their boiling water. With a matching set of mixer and boiling water tap the Nordic Twintaps will look stylish in any kitchen, no matter the shape or finish you choose.
A base model with a 3-litre tank and polished chrome finish starts at just £1200. Call us today to receive a personalised quote just for you.
Order Quooker Nordic Twintaps Here
Where can I get a Quooker Tap in Northern Ireland?
We at Glacier Water Systems are the leading Quooker tap installers in Northern Ireland and we are glad to say that we supply ALL of Northern Ireland with these contemporary taps. Whether you are in Belfast or Ballymena, Portstewart or Portadown, Newtonabbey or Newry, we will provide you with a professional service to get your home caught up with the newest Quooker products. With a free on-site survey, we will ensure that we can provide a solution for your home.
Call us today at 028 258 9000 or send us an email at sales@glacierwatersystems.com today to find out more information and receive a quote custom-tailored just for you.